EASY TO INSTALL
One roof, one order. Everything, including the deck, kerb and roof lights can be specified in your order.
THERMALLY EFFICIENT
U-value of 0.12W/m2K, far exceeding building regulations. The Flat Roof is generously insulated.
MADE TO MEASURE
All structural parameters are taken care of. We can supply exactly to your specifications.
LIGHTWEIGHT DESIGN
Weighs only 51kgm2, the lightest flat roof system available. All panels are lightweight and easy to manoeuvre.
Features & Benfits
WHY CHOOSE A FLAT ROOF?
Choose TCR Derby for the beautiful and bespoke Flat Roof. It is suitable as an orangery and extension, providing a foundation for our Flat Skylight or lanterns. These can support wide spans of bifold doors with strong eaves beam support.
Get a free quote for a Flat Roof near you today. We connect with the trade in Derby, Nottinghamshire and beyond, making us your ideal port of call for all conservatory roof products. We manufacture in-house and can deliver. Contact us directly if you'd like to find out more about our delivery options.
Get A Quote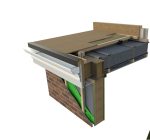 The 88mm kerb has been insulated and tapered for a skylight fitting.
The adjustable pitchlock has pre-cut battens and allows for accurate fittings every time.
Pre-cut OSB 18mm thick desk with a tongue and groove for an even finish.
Keeps warm air in the room and prevents moisture from entering.
Up to 5.6m unsupported spans are possible due to the super strong ring beam.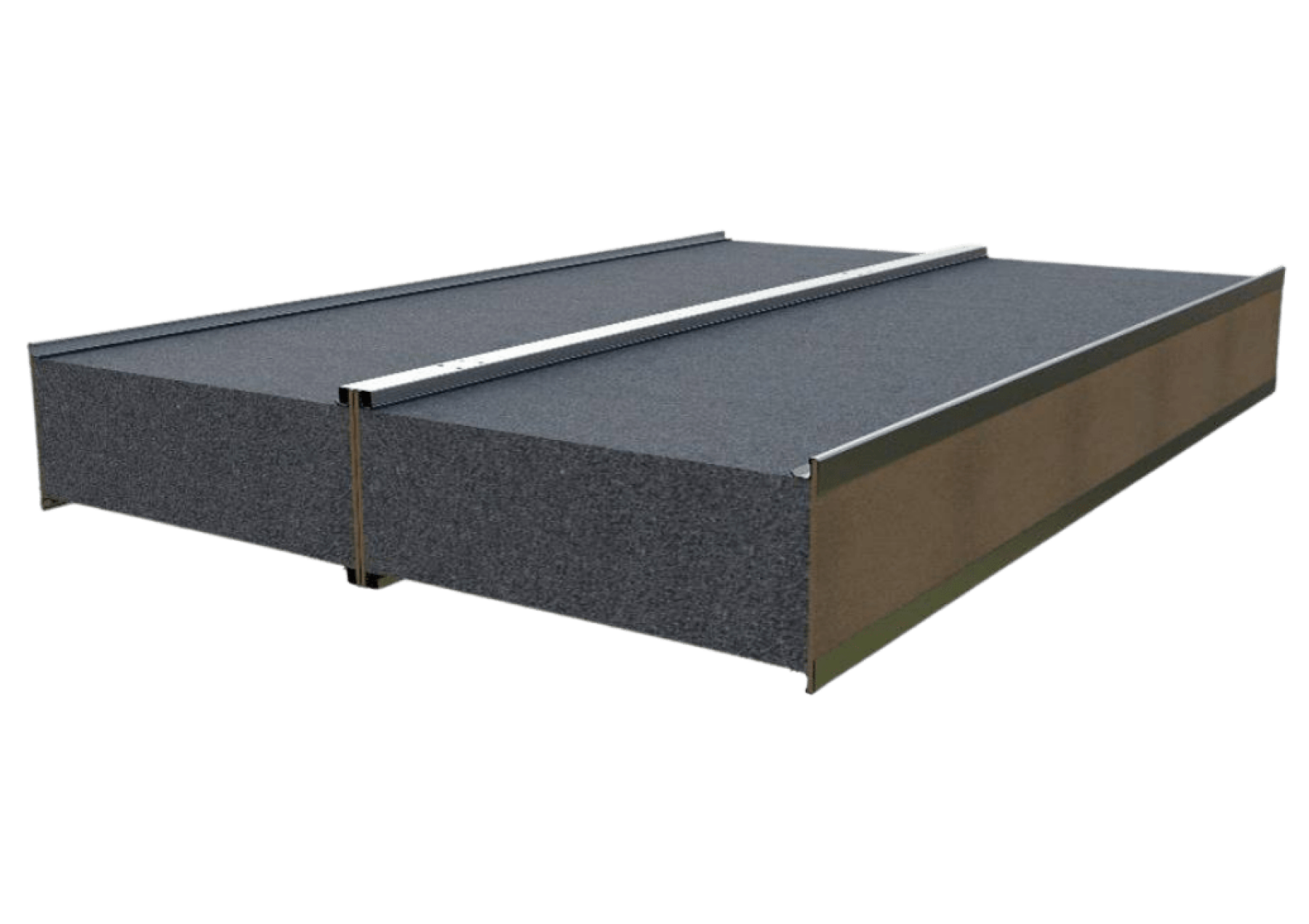 Flat Roof & Skylight
Our Flat Roof is a brilliant foundation for one of our Flat Skylights. The kerb has been tapered to allow for a skylight placement. You can bring bright natural sunlight directly from above into the living space and provide a steady flow of ventilation when the fixture is open.
There's no compromise on the outstanding thermal efficiency of our Flat Roof if you choose to integrate a Flat Skylight into the design. The Flat Skylight offers a U-value of just 1.2W/m2K and has noise reducing properties for a more comfortable living environment.
Learn More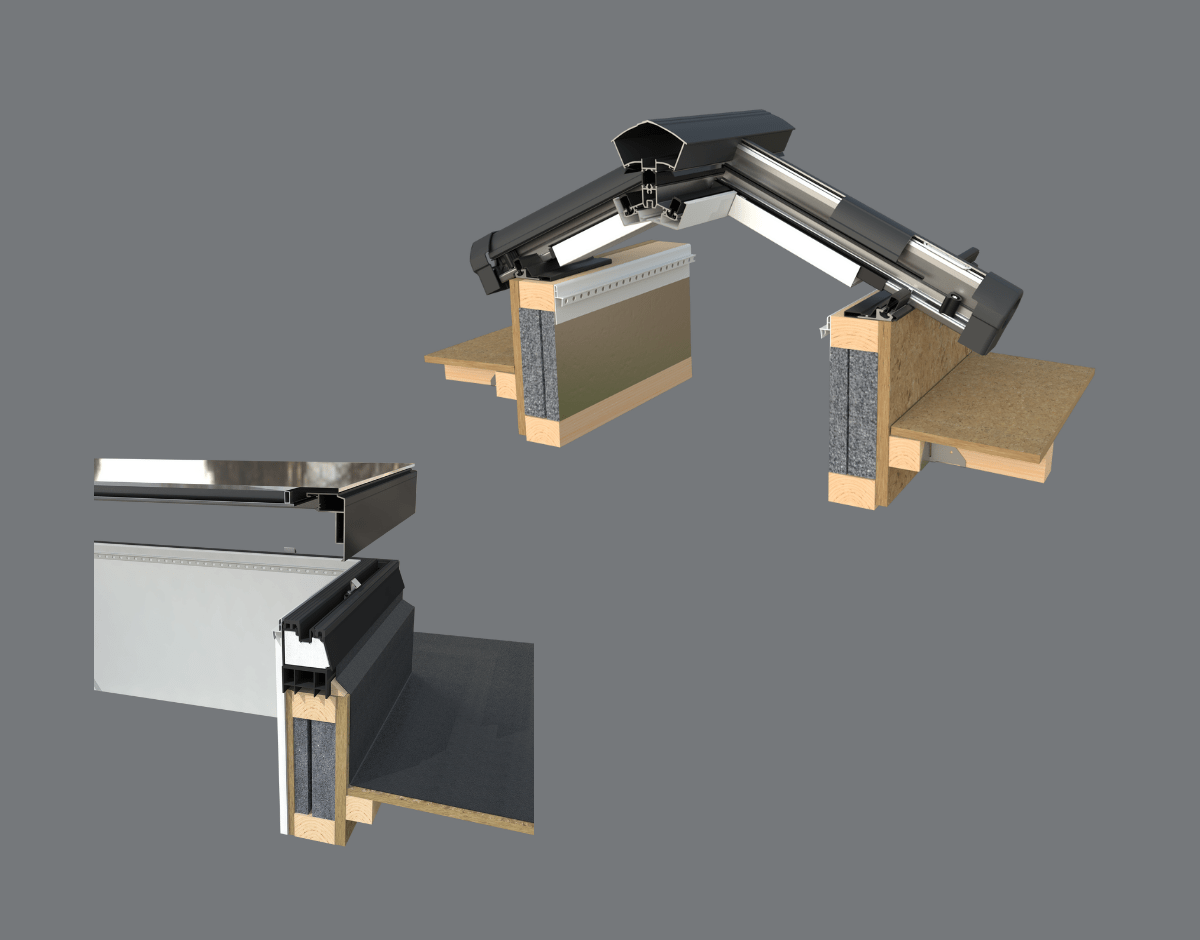 Flat Roof & Lantern
This Flat Roof, perfect as an orangery or an extension, can also support one of our Wendland or Stratus lanterns. They are perfectly pitched at 20°, creating a focal point of sunlight throughout all hours of the day.
Our lanterns are highly customisable. The homeowner can request different bar configurations along with any RAL colour for the frame. There is the potential to create minimalistic designs or striking visual appeal with our versatile roof lanterns.
Learn More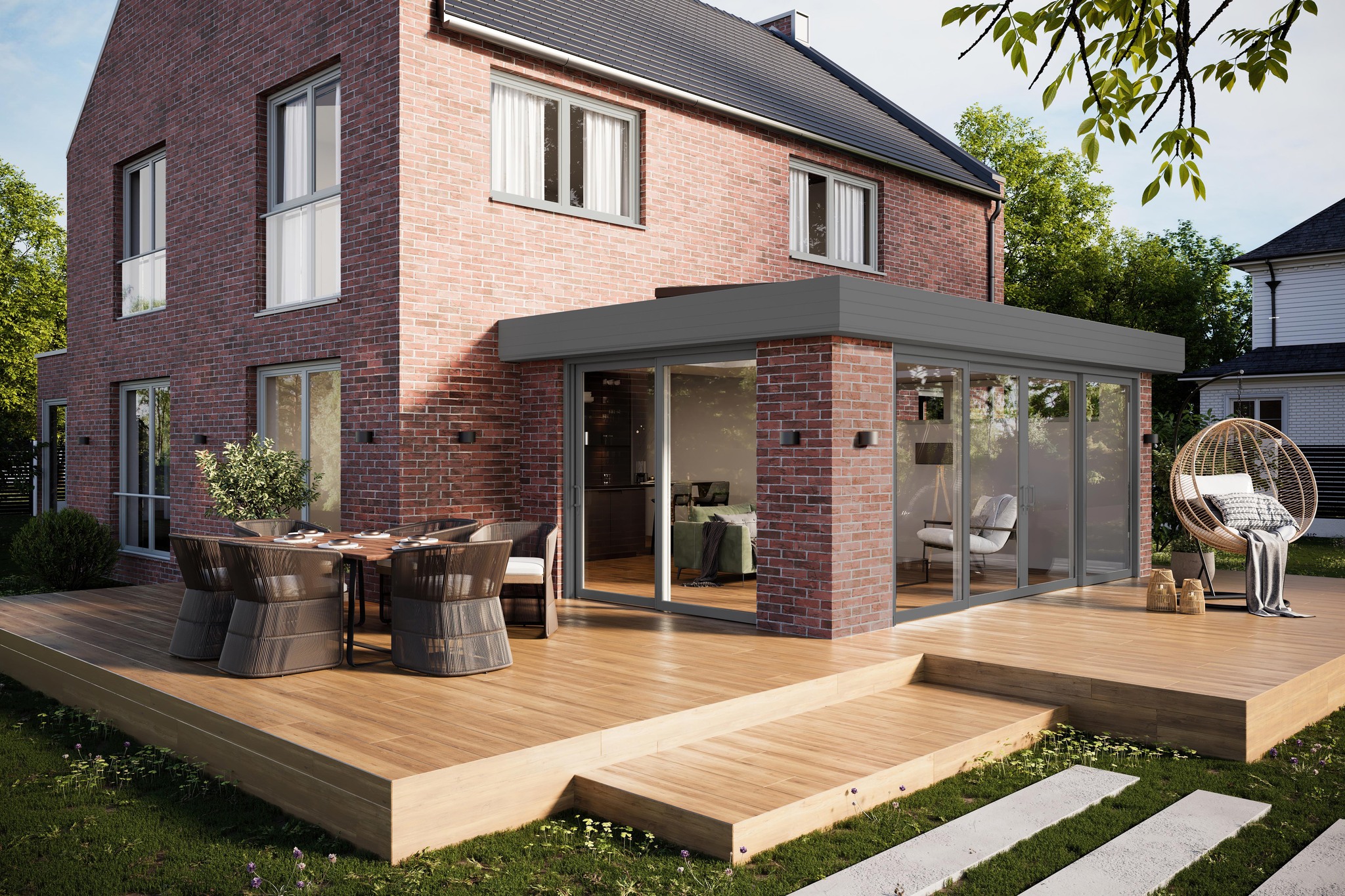 Fascia Options
There is a choice of four fascia designs which you can request for the Flat Roof. These are all available in any RAL colour. The homeowner can pick no fascia, a classic fascia, a curved cornice fascia or a two tier cornice fascia.
Each design brings impressive customisation potential to the Flat Roof's design. Request a free quote for our Flat Roof from our Derby team today to get your building project started.
Learn More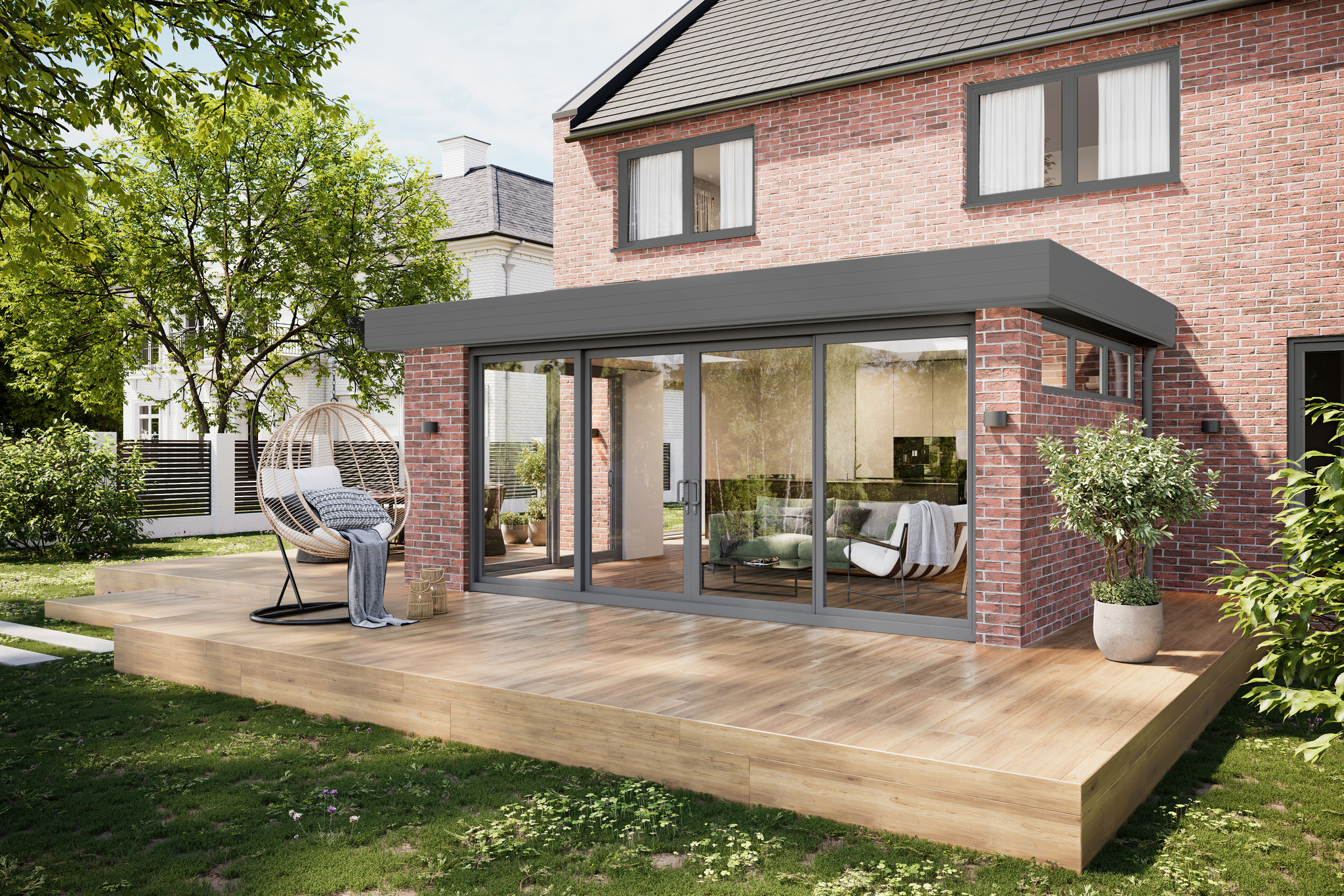 Soffit Options
Choose between a standard or an extended soffit for the Flat Roof. The standard soffit has an overhang of 36mm from the external face of the brick, excluding any fascia that has been requested. The extended soffit has an overhang of 240mm from the external brick wall.
We can accommodate bespoke requests. If you'd like the same soffit length the whole way around or to mix and match standard and extended soffits for different sections of the Flat Roof, we can accommodate your needs. Get in touch with our Derby team to find out more.
Ease of Installation
We supply the Flat Roof as one roof, one order. We remove all unnecessary complications like needing to wait for kerb sizes. Our skilled team fabricate this product to reduce as much time as possible on your building site.
This is a brilliant replacement roof, with all the structural calculations taken care of for your peace of mind when installing. Get a free quote from our team today.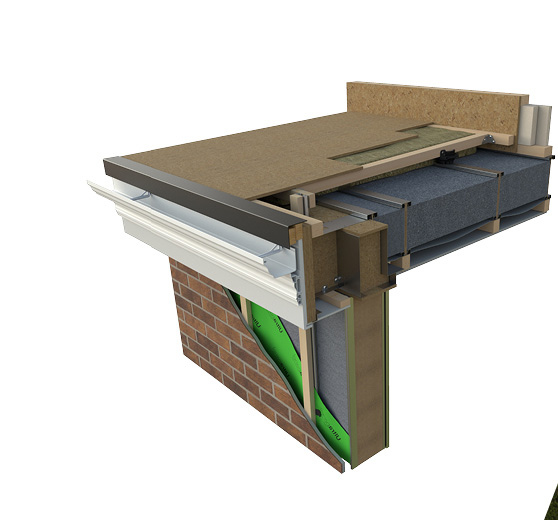 Grand Designs
Thanks to the super strong ring beam, the Flat Roof supports wide unsupported spans for the potential to create grand design styles with the Flat Roof. Up to 5.6m spans can remain unsupported with the need for additional structures.
With this classic Orangery styled roof, you can incorporate bifold doors underneath the structure for panoramic views and the potential to add value to the homeowner's property.
testimonials
What Our Customers Say
Read all of our latest testimonials here!
Get A Quote
My bifold doors look absolutely brilliant, thank you so much for your help with the design and colour, not something we would have thought of but they look marvellous. We've had so many Comments, we have passed your number on to quite a few of our friends!
Michelle
Great service, prompt delivery and fabulous advice, thanks guys!
Mick
As a customer I would just like to say how impressed I was not only with your product but the delivery logistics and exemplary customer service. I will be using your company again
R Bailey
Products
Related Products
FAQs
Where do you supply to?
We're based in Derby, and we primarily deliver to Nottinghamshire, Birmingham, Coventry, Milton Keynes, Leicester, Sheffield, Peterborough, Newark, Stoke-on-Trent, Nottingham, Lincoln and surrounding areas. Get a free quote from our friendly team today.