EASY TO FIT
A pre-assembled RidgeLOCK system allows for easy assembly.
RANGE OF COLOURS
Available in aluminium or uPVC in grey, white black or any RAL colour.
MINIMALISTIC DESIGN
The Wendland lantern has fewer bars than other structures.
THERMALLY EFFICIENT
The correct performance glass enables high thermal performance.
FEATURES & BENEFITS
WHY CHOOSE A WENDLAND LANTERN?
Based in Derby, we supply and deliver to the trade throughout the UK. Our Wendland Lanterns are available with fast lead times and are fully building regulation compliant. We have over 70 years of industry experience and can assist installers with all of the expert advice, materials and products they need to enhance their sales.
This product allows for an aluminium internal finish for enhanced aesthetics and performance. View our technical downloads and our 3D models to explore this product's specifications in more detail. Contact us for a quick free quote today to get your project started.
Get A Quote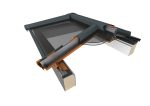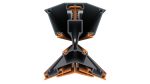 The ridge lock allows for an accurate fitting with every installation. Simple clip on features means that our Wendland roof lanterns are easy to install every time. The ridge lock feature is preassembled for less time on site and an accurate installation.
A choice of aluminium or PVCu frame material is available. These roof lanterns minimise on bars for a sleek design. With fewer bars than other lanterns, they bring in more natural light and can boost visual appeal. Our quality lanterns are also thermally broken. Whether the frame is selected in PVCu or aluminium material, there are design elements to retain heat and prevent cold draughts.
The Wendland lantern has a 20° fixed pitch. This is all possible thanks to the strong ridge, reducing the need for bars and structural reinforcement. Every finish is neat, tidy, and minimalistic. Get a free quote for a Wendland lantern today.
A PVCu thermal rider rail, quick and easy to install, sits on the lantern kerb. This acts as an efficient thermal break. The injection moulded end caps also aid with insulation and are UV resistant. In addition, thermal clips reduce condensation build up and for the top caps to be fitted by hand.
Any RAL Colour
Wendland Lantern Colours
The Wendland lantern is colour customisable on both sides of the frame. It has the potential to bring ample visual appeal to any property. It comes in White or Anthracite Grey as standard.
Alternatively, the homeowner can request their frame in any RAL colour. In this way, they can create bespoke designs to make their roof lantern feel their own.
Downloads & Media
Access all the necessary downloads for our Wendland roof lanterns here.
testimonials
What Our Customers Say
Read all of our latest testimonials here!
Get A Quote
My bifold doors look absolutely brilliant, thank you so much for your help with the design and colour, not something we would have thought of but they look marvellous. We've had so many Comments, we have passed your number on to quite a few of our friends!
Michelle
Great service, prompt delivery and fabulous advice, thanks guys!
Mick
As a customer I would just like to say how impressed I was not only with your product but the delivery logistics and exemplary customer service. I will be using your company again
R Bailey
FAQs
What areas do you deliver to?
We deliver to Derby, Birmingham, Coventry, Milton Keynes, Leicester, Sheffield, Peterborough, Newark, Stoke-on-Trent, Nottingham, Lincoln and more locations throughout the country.
Do I need planning permission for a roof lantern?
Typically, you won't need planning permission to install a roof lantern. As a general guideline, a roof lantern must not extend 150mm above the sloping plane of the existing roof structure.
What other products do you supply?
We sell a range of brilliant roof lanterns beyond our Wendland roof lantern. Check out our Stratus Lanterns and Flat Skylights to compare our product offerings and the benefits they can bring to your project.
In addition to our roof lanterns, we also manufacture and supply Glass Roofs, the Livinroof, the Ultraroof and the Warmer Roof, as well as hup! extensions, Flat Roofs and Garden Rooms.
Don't miss out! Get a free online trade quote today to find out pricing and more.
Why choose TCR Derby?
Our combined team have over 70 years of industry experience. By choosing us, we can give you lend you our expertise to help match you with the perfect conservatory roof products.
These roof lanterns are only part of our exceptional offering. We source cost effective conservatories, extensions and lanterns that never compromise on performance.
Get a free quote from our friendly Derby based team today, or contact us directly for any more information you require.