CHOICE OF DESIGNS
There is a choice of four roof lantern designs, including contemporary one, two, three and four way bar configurations.
BESPOKE COLOURS
These lanterns come with hard wearing, powder coated finishes on the exterior. Colours can be mixed and matched.
SLIMLINE RIDGE
Sightlines are kept to a minimum and allow for clear sky views.
THERMALLY EFFICIENT
Ultra-low conductive elements and thermal breaks for enhanced thermal performance.
Features & Benefits
Why choose a Stratus Lantern?
Based in Derby, we serve the UK trade and deliver nationwide with fast turnarounds. This excellent aluminium roof lantern is suitable for flat roofs and extensions and is fully regulation compliant. British made, these lanterns are engineered with precision and are built to last.
The design is both contemporary and minimalistic. Draw customers in with the wealth of customisation options available for our Stratus lantern, including any RAL colour. Be sure to view all of our technical downloads to assist with your sales. Get a free quote today.
Get A Quote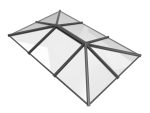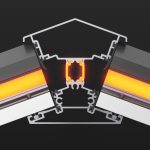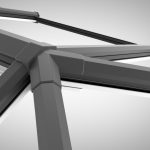 FIXED PITCH & SIMPLE FITTING
The Stratus lantern has a fixed 20° pitch, a perfect elevation to create focal points of sunlight from all angles. It has been designed to reduce unnecessary time on site. With an intuitive product like this, there is less disruption on site and faster turnarounds.
Our experienced team can assist you with any installation guides or brochures you need for our products. Feel free to contact our Derby team directly for any questions you may have.
These lanterns incorporate a slimline ridge and discreet top caps that contribute to a minimalist aesthetic. The contemporary style can support the ridge using just the hip rafters.
This provides a clean and modernistic look which maximises natural sunlight. View our FAQs below if you'd like information on the sizes each design can achieve.
Polyamide nylon, glass composite thermal breaks that are 533x more efficient than aluminium. These roof lanterns use innovative thermal break technology. Unlike traditional aluminium structures, the Stratus lantern's low conductive elements will reduce heat transfer.
To illustrate just how thermally efficient these lanterns are, they are approximately 533 times better at retaining heat than standard aluminium and 65% more efficient. We supply the trade with products that contribute to a more sustainable environment.
The Stratus lantern glazing bars can be configured in four different design styles up to 3m x 6m. There is a range of choices for the Stratus lanterns bar configurations. The homeowner can enhance their living space with two, three, four way or contemporary bar configurations.
Any RAL Colour
Colour Options
The customer can request their Stratus lantern in any RAL colour on either side of the frame. The aluminium material is powder coated and comes in Anthracite Grey, Black or Crisp White as standard with fast lead times. We can can deliver colour customised Stratus lanterns throughout the UK with fast lead times.
Downloads & Media
Access all the necessary downloads for our Stratus lanterns here.
testimonials
What Our Customers Say
Read all of our latest testimonials here!
Get A Quote
My bifold doors look absolutely brilliant, thank you so much for your help with the design and colour, not something we would have thought of but they look marvellous. We've had so many Comments, we have passed your number on to quite a few of our friends!
Michelle
Great service, prompt delivery and fabulous advice, thanks guys!
Mick
As a customer I would just like to say how impressed I was not only with your product but the delivery logistics and exemplary customer service. I will be using your company again
R Bailey
FAQs
What sizes can the Stratus Lantern be configured in?
We've listed the sizes for each of the Stratus lantern configurations below. They can reach a maximum size of up to 3m x 6m.
Contemporary- Max 1500mm x 3000mm
Two Way Design- Max 1500mm x 6000mm
Three Way Design- Max 3000mm x 6000mm
Four Way Design- Max 2000mm x 2000mm
Do you deliver?
We deliver nationwide. Derby based, we are leading manufacturers of conservatories, extensions, roof lanterns and more. Choose us for market leading products that offer trade customers and homeowners great value and exceptional performance.
We have over 70 years of combined industry experience between us, making us well placed to offer you the very best advice and knowledge you'll need to get your project started.
What other products do you offer?
View our Wendland lanterns and flat skylights to compare our product offerings and the benefits they can bring to your project.
In addition to our roof lanterns, we also manufacture and supply Glass Roofs, the Livinroof, the Ultraroof and the Warmer Roof, as well as hup! extensions, Flat Roofs and Garden Rooms.
Don't miss out! Get a free online trade quote today to find out pricing and more.
How much does your Stratus lantern cost?
Get a free quote online today for our Stratus lanterns. Pricing can vary based on the configuration you request or any bespoke RAL colouring for the frame. With our no obligation quote, you can get the most accurate price point for your requirements.
We can offer our trade customers and homeowners brilliant value with all of our conservatory roof products.